Coronavirus Quiz
English
Cat de multe stii despre actuala epidemie/pandemie de Coronavirus?
Cum trebuie sa te protejezi, ce trebuie sa faci si sa nu faci?
Rezolva acum quizul sa vezi daca esti pregatit pentru Coronavirus…
Alte lucruri importante despre Coronavirus COVID-19

Este foarte important ca pacienții care vin din zonele la risc – zona roșie care impune carantina (întreaga Italie) să fie atent examinați, să li se ia o anamneză foarte scurtă, foarte concisă, dar eficientă, care să permită luarea masurilor necesare.
Este esențial și absolut obligatoriu să anunțe acest lucru personalului medical cu care vine în contact, pentru că doar comunicând, personal medical cu pacienți, putem să avem rezultate mai bune ale procesului de screening, izolare și limitare epidemiologică.
Dacă știi că vii din zona roșie, trebuie să anunți autoritățile – există comunicare cu medicul de familie, există TelVerde și există 112, astfel încât deplasarea unui potențial pacient cu coronavirus prin țară, cu mijloace de transport în comun, să fie stopată. Cred că ține și de noi, ca potențiali pacienți, să avem conștiința de a ne implica și a lua măsurile necesare. Pe lângă autoritățile care au niște reglementări clare, foarte concise și foarte bine puse la punct. Ar trebui să știm foarte bine ce avem de făcut atât ca personal medical, cât și ca potențiali pacienți.
Infecția se transmite prin picături nazofaringiene pe care le eliminăm în timpul vorbitului, tusei și strănutului și atunci este important ca atunci când tușim/strănutăm să folosim o batistă de unică folosință pe care să o aruncăm imediat după folosire și să ne spălăm pe mâini cu apă și săpun. Dacă această batistă nu este disponibilă, trebuie să tușim/strănutăm în antebraț pentru a limita împrăștierea particulelor de salivă.
În al doilea rând, este important să evităm aglomerațiile, spațiile închise și este important să păstrăm o distanță de un metru față de persoanele din jurul nostru sau de 2 metri față de cele care tușesc/strănută.
Este foarte important ca persoanele care au simptome respiratorii să stea la domiciliu, să solicite consult telefonic prin medic de familie, TelVerde sau 112 pentru a ști ce au de făcut și să nu se deplaseze în comunitate, pentru că este o diseminare absolut inutilă a bolii.
A doua modalitate de transmitere a virusului este cea prin mâini murdare. Cred că trebuie să fim mai mult decât conștienți că aici avem o problemă enormă ca popor. Trebuie să învățăm să ne spălăm corect pe mâini cu apă și săpun după ce folosim batista, dacă tușim, dacă strănutăm, obligatoriu înainte să mâncăm.
Este important în comunitate să nu ducem mâna murdară la ochi, nas, gură, pentru că acest lucru înseamnă expunerea mucoaselor la virus, ceea ce nu ne avantajează absolut deloc și este o modalitate importantă de transmitere a virusului.
Sursa informatii: hotnews.ro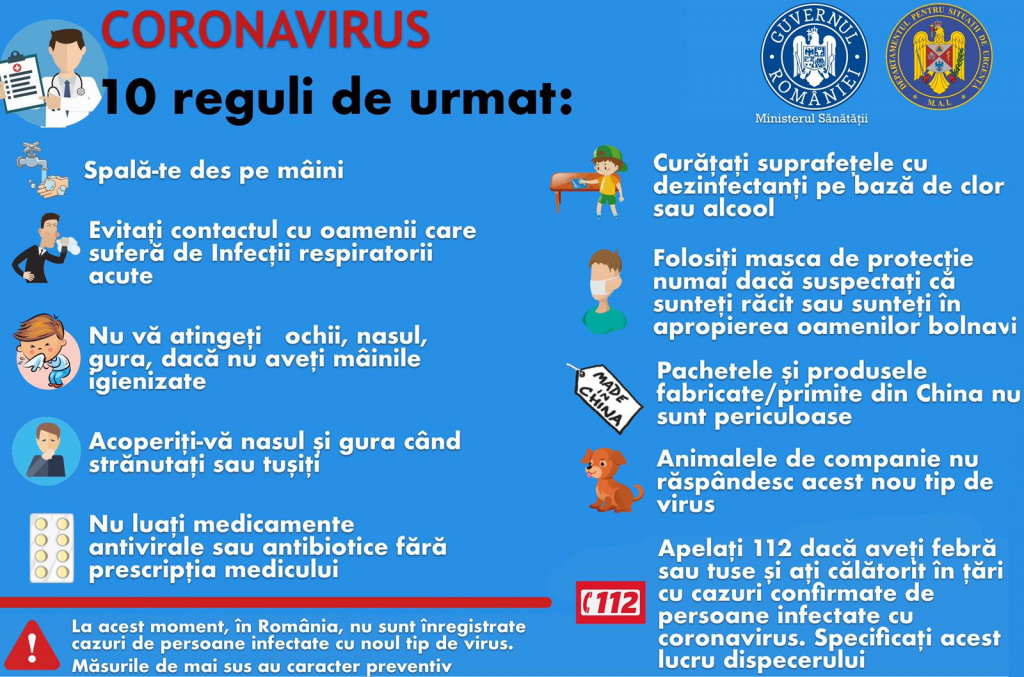 We are sorry that this post was not useful for you!
Let us improve this post!
Tell us how we can improve this post?
Examples of questions from
"Coronavirus Quiz

"
How often you should touch your face with your hands when outside?
Where this Coronavirus started from?
What should you do if you have the Coronavirus symptoms?