Misiunea Fulgilor de Zăpadă Paranoici! Fizica din spatele unui fulg de zăpadă.
English
Problemă:
Crocobeții (conduși de Uhubau) au inventat un tip de fulgi de zăpadă prin care vor să cucerească vaste porțiuni din România. Numele de cod este "Fulgii Paranoici". Evil!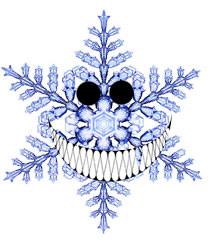 Spionii noștri ne-au confirmat că vor însămânța norii de deasupra localităților cu o substanță secretă (acid pirimidincarboxilic), care va transforma banalii și dragălașii fulgi în niște arme redutabile. Ei îi vor transforma pe oameni în nebuni paranoici cu comportament haotic în următoarea perioadă.
Care sunt simptomele infectării:
adulții vor cheltui sume enorme de bani în magazine, vor cumpăra multe lucruri de care nu au nevoie.
vor cumpăra prea multă mâncare, pe care multă o vor arunca după sărbători.
vor alerga prin orașe înnebuniți, vor sta în blocaje uriașe în trafic.
Astfel, vom fi mult mai vulnerabili, mai obosiți și mai ușor de cucerit!
În ce constă misiunea pentru tine, cadet!
după ce o accepți, trebuie să urmărești videoul explicativ a lui Cristian Presură, să înveți despre fizica care stă în spatele fulgilor de zăpadă.
să răspunzi la quizul aferent, dovedind că ai reținut explicațiile lui Cristi.
Dacă vei duce la bun sfârșit misiunea, atunci:
vei câștiga extra bonus de puncte!
vei primi o întrebare de logică, să vedem cât de bun ești. Răspunsul îl vei afla săptămâna viitoare.
îți vei salva (probabil) familia de la influența nefastă dată de acești fulgi malefici. Mult succes!
Urmărește filmulețul, după care rezolvă quizul!
Extra-Bonus de Logică
După ce-ți îndeplinești misiunea, încearcă să găsești răspunsul la următoarea problemă LOGICĂ, să vedem cât ești de tare! Care este X?
8806=6
7112=0
2172=0
9999=4
1111=0
3213=0
7661=2
9313=1
0000=4
8888=8
3333=0
5555=0
8193=3
8069=5
1012=1
7777=0
6699=4
7556=1
9888=7
2583=X
Vei afla răspunsul corect săptămâna viitoare 🙂 Baftă!
We are sorry that this post was not useful for you!
Let us improve this post!
Tell us how we can improve this post?
Examples of questions from
"Misiunea Fulgilor de Zăpadă Paranoici! Fizica din spatele unui fulg de zăpadă.

"
Cum sunt moleculele de apă?
Ce înseamnă ca o moleculă de apă este polară?
De ce niciodată nu avem 2 fulgi de zăpadă identici?